The other day, my firewife and blogger friend, Brandi @
Life Between the Tones
told us about a great kids book she'd found called "Firefighters A - Z".
My kids aren't little anymore and I'm working on getting rid of the majority of their old kid books (that I've hung on to all these years because I'm too sentimental about them), but I still have my Firefighter book collection.
From Baby Board books to Adult Romance and everything in between.
(I'd take a picture, but like every frickin' thing else around this dump, they are packed away in a cabinet waiting for me to get my "Dream Den" fixed with built-ins so I can display stuff.)
Anyway, I didn't have this book in my collection, and I wanted it. Maybe. If I could get it free. Sort of free.
Thing is, I have always been an avid, voracious reader for as long back as I can remember. Heck, I may have been born reading. (j/k....maybe)
Books were one of my addictions, I bet I've spent a good $100 thousand or better on books in my lifetime.
One of my favorite places in the whole world to visit was....no, not the Library. You'd think so, right? Our local library had a very sad, small, old selection of Historical Romance, which was what I liked to read the most at that time.
No, my favorite place to visit was the Used Book Store. People would buy the books I wanted, read them, and trade them in for credit, and then I could buy the book at 1/2 the cover price. Usually that was around $3.00.
A friend told me about
Paperbackswap.com
, which she used to swap her kids books because she didn't live near town or near any Used Book Stores to trade at.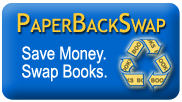 The way
PBS
works is, you list your books for swap and someone requests one or more of them.
You wrap it and buy the postage and mail it. Then you earn a Credit for the book.
When you find a book you want, you spend your Credit to order it, and it costs you nothing, the sender pays the postage.
I found out that postage to mail a book generally cost less than I was spending to buy the book at half-price at the UBS. Usually around $2.00, give or take.
So I moved all my book-swapping business to
PBS
. Plus, I could list books on there that my UBS wouldn't accept, like hardbacks and books older than a certain date and kids books that weren't Chapter books.
With the ginormous membership at
PBS
, I started getting requests right away, and earning Credits like crazy. Which I'd turn right around and use to request books I wanted. Books I'd wanted and the UBS didn't have, awesome.
Eventually - long story short - I converted to electronic books.
I still have a raging book addiction, it's just that I can store my thousands of books virtually now, and have them not take up so much space in the house.
But I continue to use
PBS
occasionally for books that I really want, in my hand. I keep Credits in my account in case I'm wanting a book, like this "Firefighters A - Z" book Brandi told us about.
It was available, and only cost me 1 Credit.
If you still buy physical books and shop at a used book store, or
Amazon
or where ever, you should give
PaperBackSwap.com
a check out and see if it can save you money.